How Do We Get To 7 Per Cent? - Improving Employment for People with Disability in the APS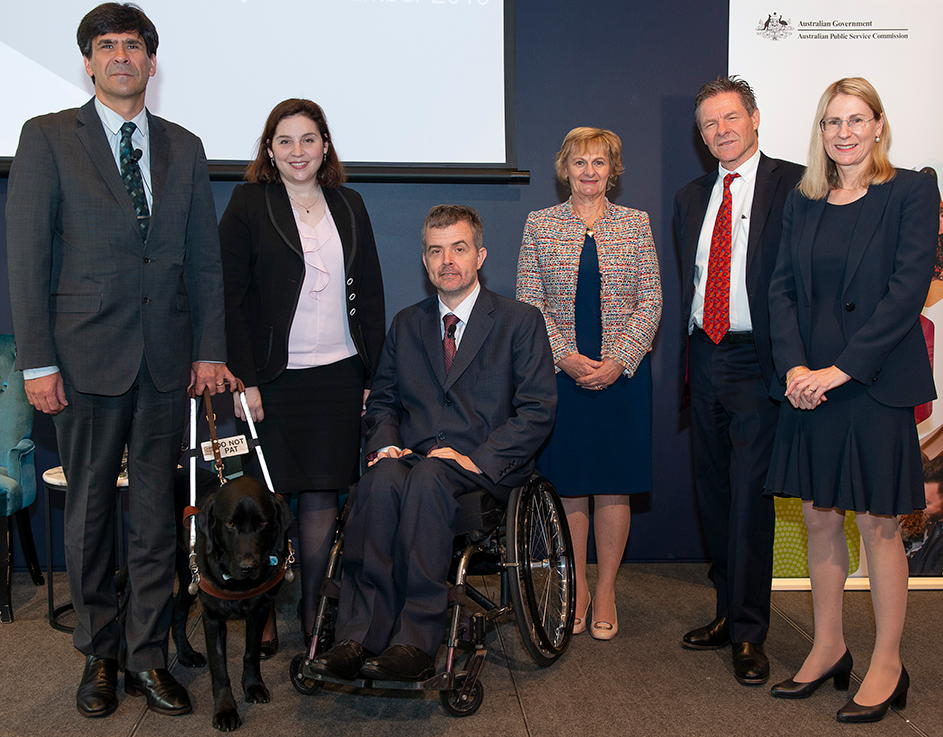 (L-R: Scott Grimley, Dr Jill Charker, Dr Ben Gauntlett, Suzanne Colbert AM, Peter Woolcott AO and Dr Heather Smith PSM)

On Tuesday 26 November 2019, IPAA ACT in partnership with the Australian Public Service Commission hosted an event in recognition of the International Day of People with Disability.

The event included a Welcome to Country by Aunty Jude Barlow and opening remarks from Dr Heather Smith PSM, Secretary of the Department of Industry, Innovation and Science and Chair of the APS Disability Champions Network. This was followed by a panel discussion with Dr Ben Gauntlett, Disability Discrimination Commissioner of the Australian Human Rights Commission, Suzanne Colbert AM, Chief Executive Officer of the Australian Network on Disability and Scott Grimley, Diversity and Wellbeing Support Officer at the National Museum of Australia and 2018 APS Diversity and Gender Equality Individual Award Winner. Closing remarks were provided by Peter Woolcott AO, Commissioner of the Australian Public Service Commission.
The event was held at the National Gallery of Australia and hosted by Dr Jill Charker, Deputy Secretary, Enabling Services Group, Department of Employment, Skills, Small and Family Business and IPAA ACT Councillor.

Video - a complete video of the event (72 minutes) is available below or can be viewed on IPAA's Vimeo channel here.
Photos - a selection of event photos are provided below, for high resolution copies please contact IPAA.