2020 International Women's Day - Senator the Hon Linda Reynolds CSC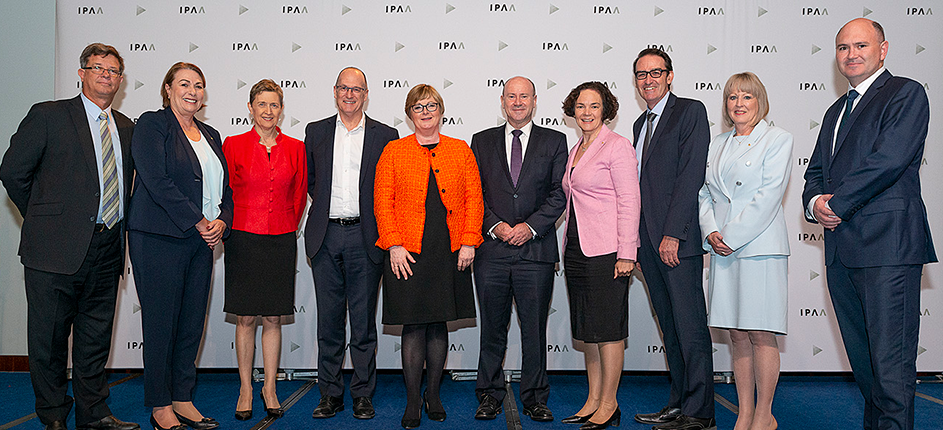 (L-R: David Fredericks PSM, Dr Michele Bruniges AM, Rosemary Huxtable PSM, Philip Gaetjens, Senator the Hon Linda Reynolds CSC, Greg Moriarty, Kathryn Campbell AO CSC, Dr Steven Kennedy PSM, Liz Cosson AM CSC, Simon Atkinson)
On Tuesday 25 February 2020, IPAA was pleased to welcome Senator the Hon Linda Reynolds CSC, Minister for Defence, to provide the keynote address at our fifth annual International Women's Day breakfast. Following the keynote address, the Minister was joined in conversation with Greg Moriarty, Secretary of the Department of Defence.

The event was hosted by Dr Steven Kennedy PSM, IPAA ACT President and Secretary of the Treasury. Amanda Story, Partner at MinterEllison provided opening remarks and Catherine Hawkins, First Assistant Secretary, Office for Women at the Department of the Prime Minister and Cabinet provided a Vote of Thanks. The event filled to capacity and was held in the Great Hall at Parliament House.
Video - a complete video of the event (47 minutes) is available below or can be viewed on IPAA's Vimeo channel here.

Photos - a selection of event photos are provided below, for high resolution copies please contact IPAA.