Spirit of Service Awards Ceremony 2021-22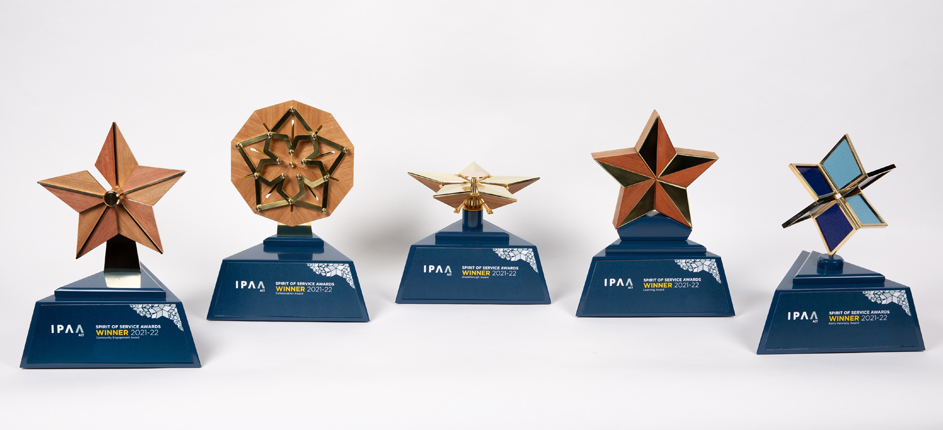 (above: the 2021-22 interactive trophies designed and produced by Questacon)
Congratulations to the Winners of the inaugural Spirit of Service Awards. The Winners and Runners Up were announced at an Award Ceremony at the National Arborteum in Canberra on 12 May 2022. The event was hosted by local presenter Cam Sullings, and the Awards were presented by Katherine Jones PSM, Secretary of the Attorney-General's Department and President of IPAA ACT. The event opened with a performance of 'My Island Home' by local Ngunnwal Singer/songwriter Alinta Barlow, and included remarks by Katherine Jones PSM as IPAA ACT President and Mark Nixon Government Partner at EY, as well as an In-Conversation with Awards Judges: Michael Manthorpe PSM and Glenys Beauchamp PSM.
Winners - more information on the 2021-22 Winners and Runners Up can be found here.
Official booklet - the official winners booklet of the Awards can be found here.
Trophies - an video about the impressive design and production of the trophies is below and also available on our Vimeo channel here.
Event video - a highlights video of the event is provided below and also available on our Vimeo channel here.
Photos - a selection of event photos are provided below, for high resolution copies please contact IPAA here.
Transcripts - transcripts for the below videos are provided here: Ceremony Video and Trophy Video.