States of Mind | The importance of mental health in the public sector
On Thursday 4 November 2021 IPAA ACT IPAA ACT partnered with the Griffith Review to deliver a virtual event on mental health awareness and its importance to the public sector.
Dr Ashley Hay, Editor, Griffith Review facilitated an exploration of the importance of mental health challenges in a broad conversation with a distinguished panel of senior leaders, including Dr Steven Kennedy PSM, Secretary of The Treasury and IPAA ACT President; Professor Patrick McGorry AO, Executive Director of the Orygen Youth Health Research Centre and Professor of Youth Mental Health at the University of Melbourne; and Professor Pat Dudgeon, Chair of the Australian Indigenous Psychologist Association and Director of the Aboriginal and Torres Strait Islander Suicide Prevention Evaluation Project and the Centre of Best Practice in Aboriginal and Torres Strait Islander Suicide Prevention. The discussion covered psychological, psychiatric and economic dimensions of the mental health question in depth. The panel drew on its considerable personal and professional background to consider what has worked well and what needs improvement to meet our mental health challenges, and issued a hopeful call to action for the public sector and the wider citizenry to face and continue to develop its policies and approaches.
The event was opened by Caroline Walsh, Chief Executive Officer of IPAA ACT and closed by Alison Larkins FIPAA, the Commonwealth Coordinator-General of Migrant Services at the Department of Home Affairs.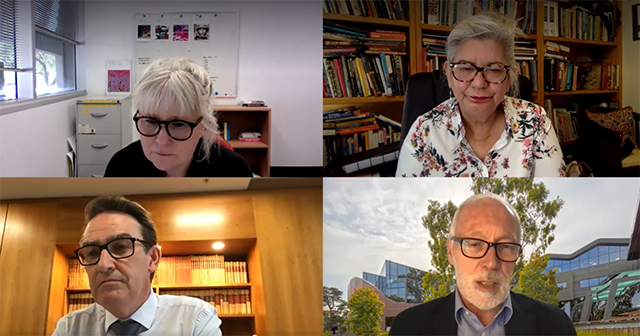 (Clockwise from top left: Dr Ashley Hay, Professor Pat Dudgeon, Professor Patrick McGorry AO
and Dr Steven Kennedy PSM)
Transcript - A copy of the transcript is available here.
Video - A recording of the event is available below or on IPAA ACT's Vimeo channel.