How do we take policy advice from good to great?
We need to be able to tackle complex problems in a rapidly changing world. Delivering great policy is a critical part of this.
IPAA and the APS team Delivering Great Policy invite you to attend the cross agency's interactive launch event, showcasing some of the creative and practical tools the APS can use to move policy advice from good to great. At this event you will:
hear from a thought-provoking panel, including several Departmental Secretaries;
explore and experience great policy practices already used across the APS; and
access new resources and contacts to enable the implementation of a high performing policy system.
If you are a policy leader, adviser, developer or implementer, this is the event for you.
Dr Heather Smith PSM
Secretary
Department of Industry, Innovation and Science

Mike Mrdak AO
Secretary
Department of Communications and the Arts

Frances Adamson
Secretary
Department of Foreign Affairs and Trade

Renée Leon PSM
Secretary
Department of Human Services

Stephanie Foster PSM
Deputy Secretary
Department of the Prime Minister and Cabinet

Dr Gordon de Brouwer PSM (Host)
IPAA National President
Honorary Professor and Distinguished Policy Fellow, ANU
Delivered in partnership with the Australian Public Service Delivering Great Policy team.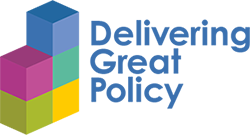 Online registrations for this event have now closed.