The 21st century is seeing an incredible shift in the power dynamic with the rise of cities as socioeconomic and political actors on national and world stages. As more of us now live in cities, they are facing increasing pressures and challenges that need to be addressed. The following resources will introduce you to some recent resources on government policy and the 21st century city.

If you have any feedback, please contact us here.
WHAT IS A 21ST CENTURY CITY?
21st century cities provide great opportunities for innovation and productivity in the global knowledge-based economy and are recognised as great places to live, work and study. Their density facilitates interaction between people, government organisations and businesses, sometimes benefiting different parties in the process. More than half (54%) of the world's population now reside in cities and the UNDESA's 2018 World Urbanization Prospects estimates that cities are projected to accommodate nearly all future global population growth. For instance, Lagos, Nigeria is estimated to become the world's largest metropolis-home to 85 or 100 million people in the next 60 years.

Australia has the fifth-highest population growth of OECD countries, more than double that of the US and UK. In August 2018, our total population passed the 25 million mark and 70% of that growth is in our 3 largest cities; while two thirds of us now live in one of the capital cities. So, while the world is rapidly urbanising, Australia is already there, despite our small population and huge land mass.
LARGE CITIES
Large cities are said to be innovation drivers, wealth producers, the economic engines of the country. Australian cities have long been an important economic and social asset and are more important than ever in the 21st century. KPMG estimates that Australian cities generate 80% of our gross domestic product. The Productivity Commission also noted in its October 2017 Productivity Review that capital cities represent over two-thirds of total employment and accounted for 80 per cent of employment growth in 2015-16.

The focus on large cities' wealth generation and agglomeration economies – the benefits when firms and people come together in cities – means the distributive aspects are neglected and big cities can become "engines of inequality" as found in recent research reported in The Conversation. In Melbourne, urban planners are concerned that its rapid growth, making it the fourth-fastest growing developed city in the world, will affect its liveability.
CHALLENGES
Challenges - particularly in the larger cities – include congestion, housing affordability, long commutes, access to jobs and services, public health, access to green space, immigrant preferences for large cities, and infrastructure. Jeffrey Simpson, a columnist for Canada's Globe & Mail newspaper noted in 2017 "what happens in the big cities counts hugely for the entire country's economic development, cultural accomplishments, social integration of immigrants, innovation and overall well-being. If cities don't work, the country won't work."

In his evidence to the House of Representatives Inquiry (below) John Wynne from Urbis observed that "the complexity, speed and scale of change is challenging traditional models of planning and developing cities, presenting uncharted issues relating to equity and access, social and economic engagement, cultural identity, homelessness, housing affordability, energy and resource use, economic growth and prosperity, biodiversity, and ecological outcomes".
CITIES AS A GOVERNMENT PRIORITY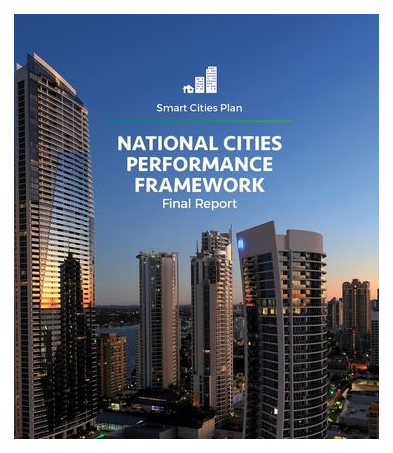 Government in Australia is placing increasing importance on policy related to cities. In September 2015, then Prime Minister Malcolm Turnbull announced cities as a national priority for the Australian Government, appointing a Minister for Cities and the Built Environment (now Minister for Population, Cities and Urban Infrastructure). In the 2019 - 20 Budget the government announced a Centre for Population sitting in the Treasury Department to analyse data and policy to inter alia "ensure the liveability of our cities."

The Department of Infrastructure, Transport, Cities and Regional Development is responsible for Australia's Smart Cities Plan, intended to focus debate and action around the opportunities for Australia's cities. See a Department of the Prime Minister and Cabinet submission to the Smart Cities plan for more on the role of the Australian Government in cities. In a speech to the Menzies Research Centre in October 2018 the then Minister for Cities, Urban Infrastructure and Population, Alan Tudge outlined plans for the government to: build major intra-city road and rail networks; address local congestion pinch-points; restrict the growth of major cities through changed visa conditions for new migrants; and better connect and integrate capital cities and surrounding regional centres.

The Department's website has a substantial amount of information on the Australian government's priorities for cities. As well as the Smart Cities Plan there are pages on City Deals, the Cities Reference Group and the National Cities Performance Framework.
A 'NATIONAL VISION'
In May 2017 the Minister for Infrastructure and Transport asked the House of Representatives Standing Committee on Infrastructure, Transport and Cities, to conduct an Inquiry into the Australian Government's role in the development of cities. The Committee's report Building Up & Moving Out was released in September 2018 and made recommendations including promoting technological innovation in the urban landscape and creating smart cities.For terms of reference, submissions and media releases go to the Committee's page here.

The Comittee Report concludes that a 'national vision' is needed, calling for a 'national plan of settlement with an east-coast high speed rail network as part of the mix. As The Mandarin reports the Committee wants the federal government to encourage denser, more sustainable and more liveable cities. It recommends following the idea of the 30-minute city and a polycentric urban layout. To oversee the plan, the committee wants a minister for cities and national settlement with a place in cabinet.There would also be a senior minister with responsibility for housing.
The 37 recommendations of the report emphasise that our cities need to be better planned, better connected, more compact, more diverse and more sustainable. They will need to engage with, and hopefully lead, global best practice in technology, urban form, accessibility and sustainability. They will need to connect to regions which are also well planned, well connected, more sustainable and better integrated.
SMART CITIES
The inexorable shift from simple digitisation (the Third Industrial Revolution) to innovation based on combinations of technologies (the Fourth Industrial Revolution) converges in the smart city - an urban area that uses different types of electronic data collection sensors to supply information which is used to manage assets and resources efficiently. This includes data collected from citizens, devices, and assets that is processed and analyzed to monitor and manage traffic and transportation systems, power plants, water supply networks, waste management, law enforcement, information systems, schools, libraries, hospitals, and other community services. For example, smarter cities can encourage better health, as this new initiative being piloted in London demonstrates. Known as the 'green man authority' certain streets known to have a lot of pedestrians. Only when a vehicle approaches, will the green man signal change to red.

In 2017 KPMG and the Public Sector Network brought together leaders from government, universities and industry to talk about what makes a city smart. They concluded that technology helps, but engaging with communities, deeply and in the long term is vital to ensure cities remain liveable and sustainable. Their snapshot report can be found here. The Apolitical website hosts a flagship topic on cities, transport and infrastructure. Some recent material on the site focuses on using new communications techniques to engage citizens, including more playful approaches.
'SMART' IN ACTION
In his 2016 article What makes a city smart? Neil Glentworth concludes that it's all about using technology to empower (predominantly) digitally-savvy citizens - and their communities - to make better decisions. The apolitical smart cities topic gives the example of crowdsourcing of citizen collected data from established sensors to monitor air quality in London. By combining this data with other datasets, the project will use machine learning to analyse the causes of the build-up of air polution in specific areas at particular times.

Smart traffic management is a key component of the smart city. See this blog post from CeBit for examples of smart traffic management including a 'virtual traffic manager' in Amsterdam and smart traffic lights, which were first introduced into Los Angeles in the 1980's in the lead up to the Olympic Games.

The Dangers of Smart City Hacking considers how Internet of Things (IoT) technology has resulted in hundreds of thousands of connected systems being embedded in many a city's critical infrastructures. The paper follows an investigation that discovered 17 zero-day (previously unknown) vulnerabilities in smart city sensors and controls used in cities around the world. While many of the benefits of smart cities are tangible, there is a risk of smart cities becoming surveillance cities unless civil liberty and data security safeguards are put into place. In October 2018, The Guardian reported on privacy concerns with a smart city project in Toronto, Canada, which prompted the resignation of the project's privacy expert.
INFRASTRUCTURE
A November 2018 report by the Economist Intelligence Unit called Flexible Cities: the future of Australian infrastructure draws on global trends and international best practice to consider how Australia can develop the capabilities to plan and build more adaptive and flexible infrastructure to serve the successful expansion of cities.
Sydney's most recent metropolitan strategy The Greater Sydney Plan has the 30-minute city as its key aspiration. The Australian Government's Smart Cities Plan defines a 30 minute city as "one where, no matter where you live, you can easily access the places you need to visit on a daily basis." This concept is nestled within the broader idea of the smart city, as it is closely associated with greater connectivity. The current City of Melbourne draft transport strategy focuses on walking, cycling and public transport, recognising the role of technology in delivering community benefits. Initiatives include trials of shared mobility and tech-enabled seamless travel solutions.

More flexible labour markets, the freeing up of commuting time and housing affordability can dilute the strength of the argument for living close to work. In Australia there is also a strong preference for living in a detached family home.
GOVERNMENT'S CONTRIBUTION
In a speech to the Property Council of Australia in May 2018, then Secretary of the Department of Prime Minister and Cabinet, Dr Martin Parkinson spoke on what cities in the fourth industrial revolution need from government. These included: the need to: get macro policy and regulatory setting right to maximise the benefits of technology and address the risks; get the governance of cities right; use new technology in the design and operation of our cities, as we advance into the 'metropolitan century'.

This speech references the Property Council of Australia's reports on Creating Great Australian Cities. The reports are Cities Megatrends and Disruptors; Benchmarking Australian Cities; Learnings from International Case Studies; and Instruments and Imperatives for Australian Cities.
IPAA RESOURCES
In May 2018, IPAA ACT hosted a Canberra Evaluation Forum event: Rethinking Cities for the 21st Century and Beyond. This forum focused on evaluation of resources to improve the performance of our cities.

Oliver Richards from the Department of Infrastructure, Regional Development and Cities spoke about cities as knowledge hubs. Ken Marshall, Director of Roads in the ACT Government presented a case study on Canberra's smart streetlight network. Presentations and video from the event can be found at this link.