2016 Innovation Awards - Winners
On Wednesday 27 July 2016, IPAA ACT and the Public Sector Innovation Network (PSIN) were joined by The Hon Greg Hunt MP, Minister for Industry, Innovation and Science, to announce the winners of the inaugural Public Sector Innovation Awards.

The awards, which were launched earlier this year, had 83 nominations from across the Australian Public Service (APS). There were twelve finalists across four categories, each of whom had to give a ten minute pitch to our panel of judges last month. Click here to view a highlight video from the pitch event, or watch the video below from the Awards Ceremony. The keynote speech delivered by The Hon Greg Hunt MP' can be read here.

Congratulations to the four winners of the 2016 Awards!
Category 1: Innovative Solutions
We took an idea and tried something different!
REDWING Program, Department of Defence

The Innovation: Design and production of a low-cost counter IED device that jams radio signals which can set off IEDs. Originally designed to assist the Afghan National Defence and Security Forces and has particular application in austere operating environments.

Judges' Comments: The judges concurred this project offered commercial impact in Defence and internationally, with the innovation able to be applied to other Defence projects, ensuring a multiplier effect beyond the already significant cost savings.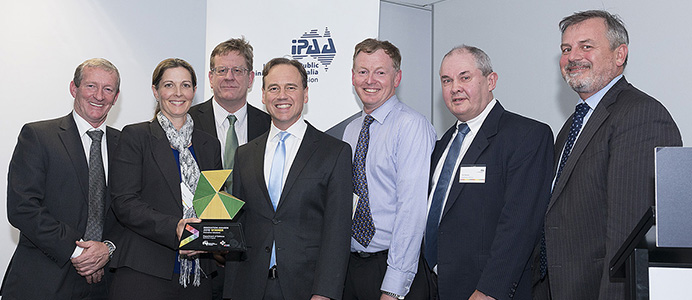 Category 2: Engaging with the Edge
Embracing radical approaches!
Mineral Potential Mapper, Geoscience Australia

The Innovation: A computer based system that maps Australia's potential for a range of new mineral resources. It will assist with the decision making regarding mineral exploration, particularly in greenfield regions.

Judges' Comments: The judges considered this is a new and well-articulated approach to applying data analytics with demonstrable economic benefit.


Category 3: Contributing to a Culture or Practice of Innovation
The people part - the key to innovation...
govCMS, Department of Finance

The Innovation: govCMS is a shared service for all government agencies which aims to reduce the technology and compliance burden on government agencies, enhance government's overall digital and online capability and improve the online experiences of citizens through simpler, easier to use government services.

Judges' Comments: The judges agreed this is a convincing start-up – a do-it-yourself project, which delivered genuine results for little financial outlay in a short time. It is, innovation by influence.


Category 4: Digital Transformation
Digital, online and technology to innovate...
Charity Portal, Australian Charities and Not-for-profits Commission

The Innovation: The ACNC Charity Portal is a digital by default service where you can: access and update a charity's details immediately on the ACNC Register if you are authorised to do so; submit your Annual Information Statement onto the Register; and print a copy of your charity's registration certificate.

Judges' Comments: The judges deemed the success of this initiative was demonstrated with broad based buy-in and an innovative approach to engagement with older Australians who dominate the charitable sector.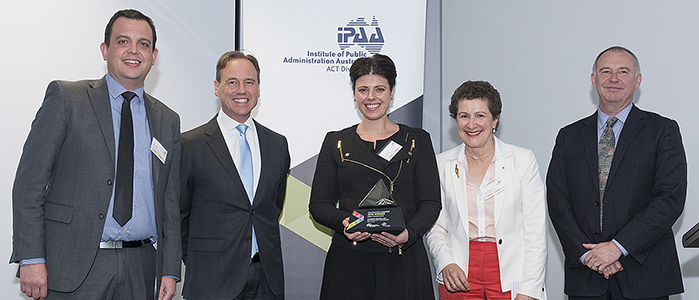 Awards Ceremony - Photos

The event was held at the new DHS Design Hub at the One Canberra Avenue building.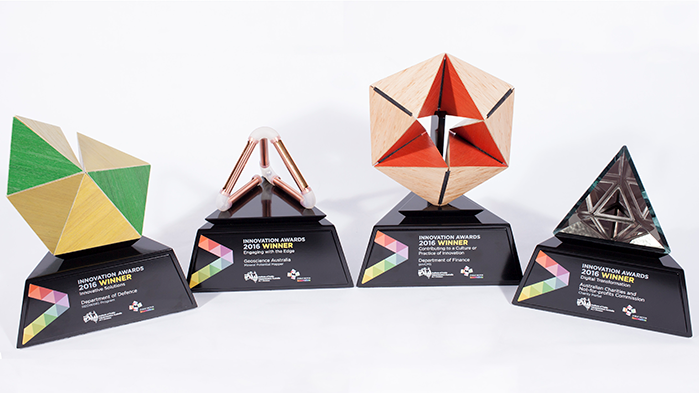 IPAA would like to thank the team at Questacon for developing our innovative trophies, which are interactive and unique to each category. Well done team!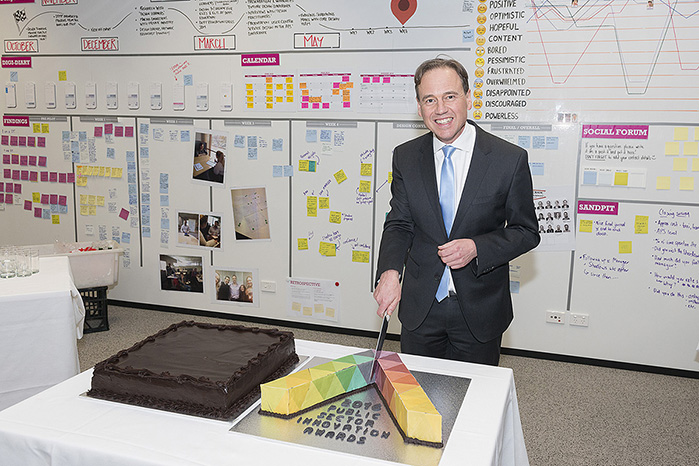 Minister Hunt cutting the cake to celebrate one of the last events for Innovation Month 2016.