2018 Public Sector Innovation Award Winners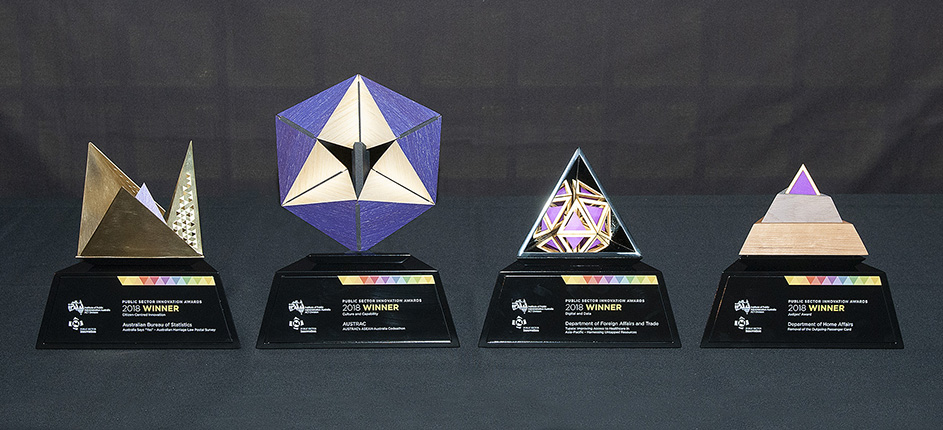 (above: the Innovation Award trophies developed by Questacon)

Congratulations to the winners of the 2018 Public Sector Innovation Awards, which were announced at an awards ceremony at Questacon on 23 July 2018. The awards were presented by Senator the Hon Zed Seselja, the Assistant Minister for Science, Jobs and Innovation.

Video - a highlights video from the ceremony (2 minutes 40 seconds) is available below or on IPAA's Vimeo channel.
Brochure of winners - a summary of the winning nominations is available here.
Photos - a selection of event photos are available below, please contact IPAA for high resolution copies.



Winner: Category 1 - Citizen-Centred Innovation
AUSTRALIAN BUREAU OF STATISTICS
AUSTRALIA SAYS "YES" - AUSTRALIAN MARRIAGE LAW POSTAL SURVEY
Delivery of the Australian Marriage Law Postal Survey, a national survey designed to gauge support for legalising same-sex marriage in Australia.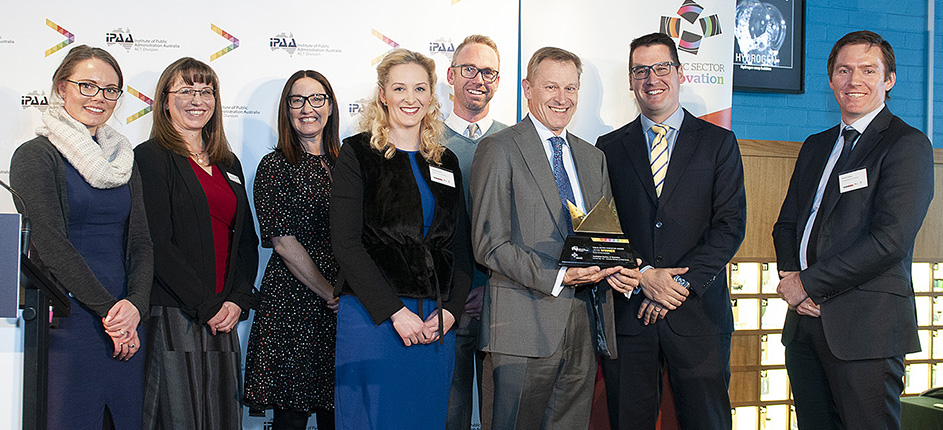 (above) the team from the Australian Bureau of Statistics, winners of the 'Citizen-Centred Innovation' award
Winner: Category 2 - Culture and Capability
AUSTRAC
AUSTRAC'S ASEAN-AUSTRALIA CODEATHON
Australia's first ever intelligence Codeathon - where regional partners, government, industry and academia collaborated to generate novel approaches to solving Australia's most complex law enforcement and intelligence problems.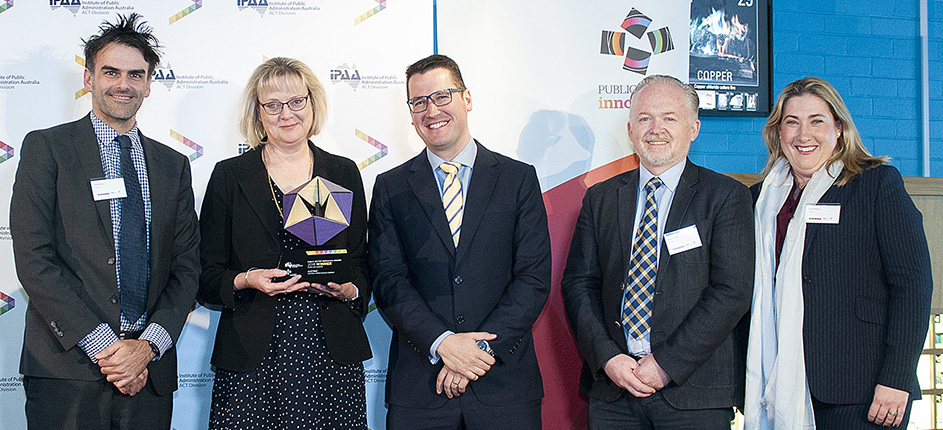 (above) the team from AUSTRAC, winners of the 'Culture and Capability' award.
Winner: Category 3 - Digital and Data
DEPARTMENT OF FOREIGN AFFAIRS AND TRADE
TUPAIA: IMPROVING ACCESS TO HEALTH CARE IN ASIA-PACIFIC-HARNESSING UNTAPPED RESOURCES
Using digital technology and human-centred design to deliver improved medical and health care facilities to developing nations across the Pacific.

(above) the team from the Department of Foreign Affairs and Trade, winner of the 'Digital and Data' award.
Winner: Judges' Award
REMOVAL OF THE OUTGOING PASSENGER CARD
DEPARTMENT OF HOME AFFAIRS
Removal of the Outgoing Passenger Card while retaining the critical data collected, delivering over one million hours of time back to the travelling public.

(above) a representative from the Department of Home Affairs, the Judges' Award winner.
Additional Photos
Additional photos of the Awards Ceremony are provided below. Please contact IPAA if you require high resolution copies of any of the photos.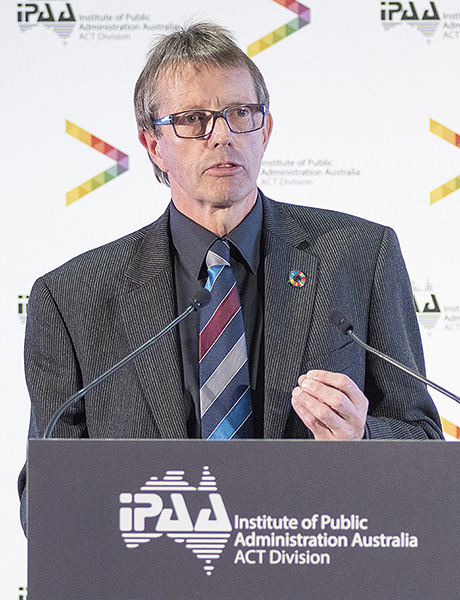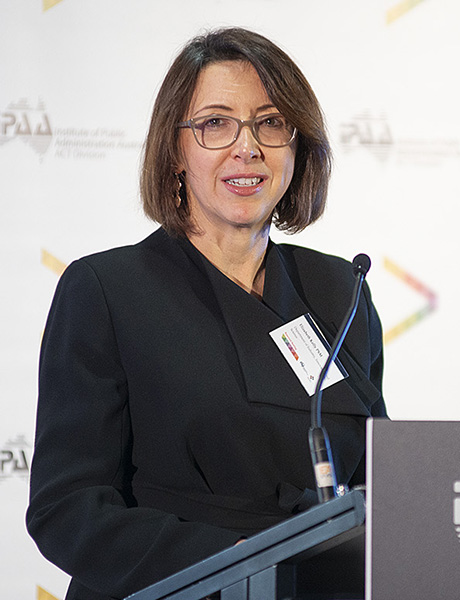 (above) Questacon Director Professor Graham Durant AM and event host Elizabeth Kelly PSM.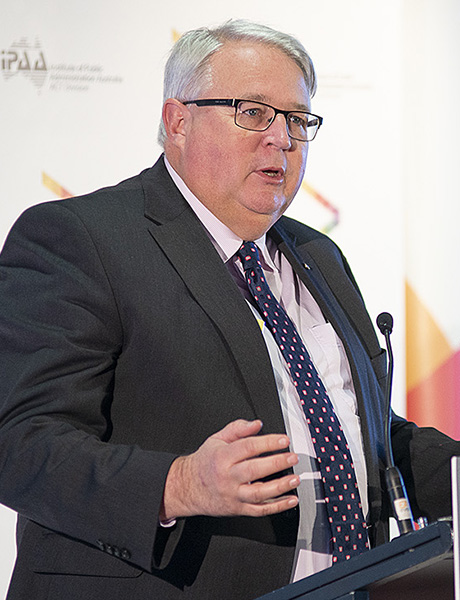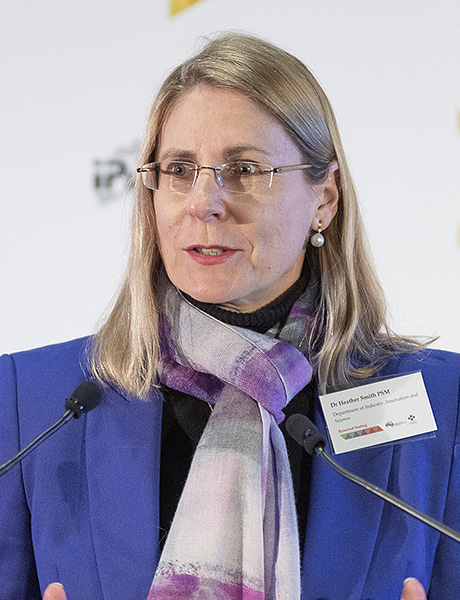 (above L-R: Judge and EY representative Andrew Metcalfe AO and DIIS Secretary Dr Heather Smith PSM)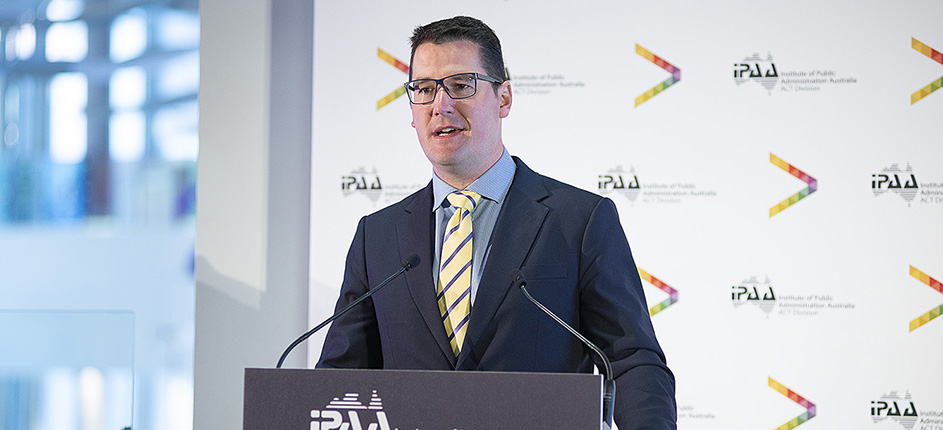 (above: Senator the Hon Zed Seselja, the Assistant Minister for Science, Jobs and Innovation).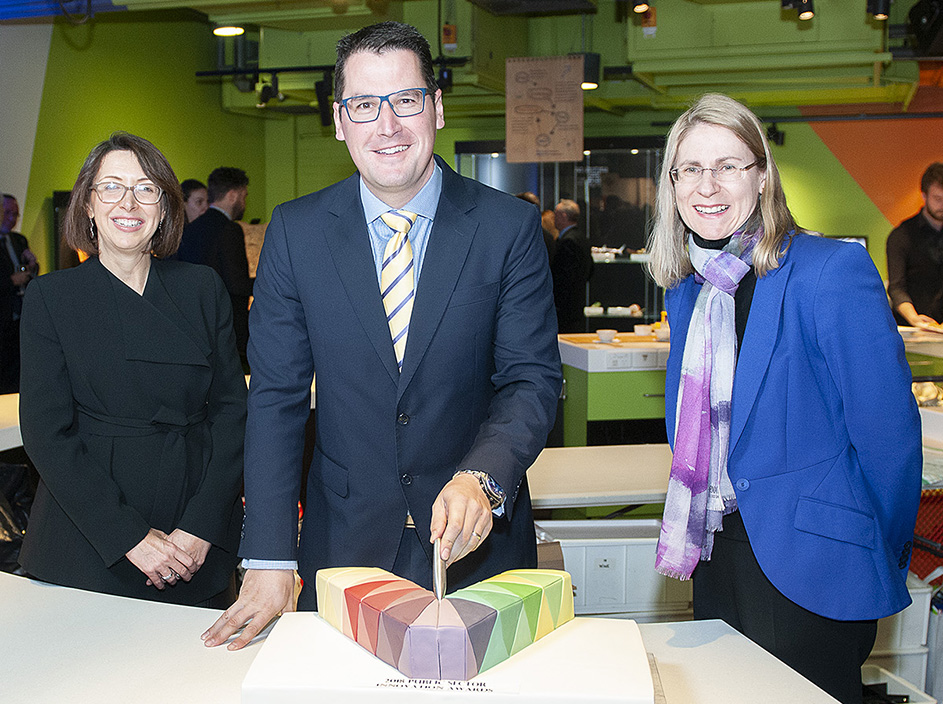 (above: Senator the Hon Zed Seselja cutting the Innovation Cake with Elizabeth Kelly PSM and Dr Heather Smith PSM)