ANU Postgrad Thrives as Star Intern at IPAA ACT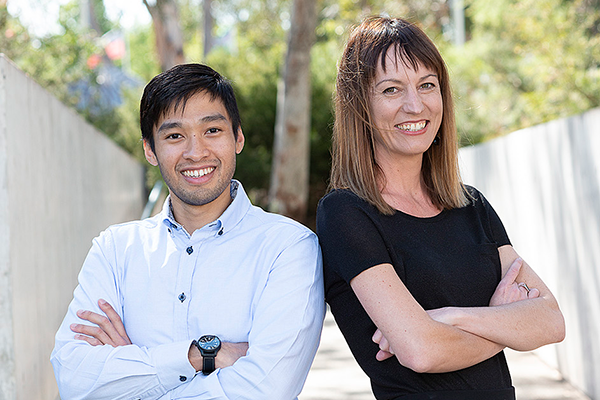 (above: Wei Shen Tan and Sunny Hutson from the IPAA Team)
When Wei Shen Tan — a postgraduate student from the ANU College of Business and Economics — began an internship with IPAA ACT earlier this year, he was ready for a change from fulltime study. 'I was looking to do something besides study and wanted to work somewhere where a fresh perspective would be valued.'
Shen is in the final year of a Master of Management with a specialisation in project management. As soon as he was eligible to apply for a College internship as part of his coursework, he was ready with his application.
Associate Professor Vinh Lu leads a team of ten within the ANU College of Business and Economics that oversees several advancement and student employability initiatives. 'We started the College's internship program in 2016 to meet student expectations and to benchmark the university against those from other Group of 8 nations. I remember my KPI for the first year was 20 student internships — we got 50 and haven't looked back.'
Sunny Hutson is IPAA ACT's Program Director and has overseen Shen's internship: 'We were impressed by the very structured and streamlined process provided by the ANU College of Business and Economics — they set the bar high in vetting students from the program and that quality assurance was really important to us as a small not for profit.'
Shen has been embedded within IPAA ACT's events team to work on an events training guide for new IPAA ACT staff: 'Being in the events team helped me understand what the team does in a very practical, hands-on way. It enabled me to record data on IPAA's event processes and to document the assumptions behind the processes. From there I developed a work breakdown structure with phased activities, a dictionary of activities and underlying assumptions, and a governance model for interacting with government stakeholders.'
Sunny has been delighted with what Shen has achieved during his internship with IPAA ACT: 'Shen demonstrated a fine balance of relaxed self-assurance, with a high level of professionalism and approachability that filled me with confidence in bringing him into the IPAA events team. He approaches problem solving thoughtfully and we value the different perspective his experience brings. We are constantly surprised and delighted by his unique approach and IPAA has benefited from his contribution.'
Working within the IPAA Events Team, Shen helped to deliver a large number of IPAA ACT events which included the Prime Minister's Address to the Australian Public Service by the Hon. Scott Morrison MP, valedictory addresses by Duncan Lewis AO DSC CSC (the outgoing Director-General of the Australian Security Intelligence Office) and Dr Martin Parkinson AC PSM (outgoing Secretary of the Department of Prime Minister and Cabinet), as well as a special event featuring Microsoft CEO Satya Nadella in conversation with David Thodey AO in the Great Hall at Parliament House. 'My internship has reminded me that when you are a student it is easy to get lost and forget why you have chosen to study and what your end goal is. Working with IPAA ACT has helped me to apply the theory I've learned at ANU to real-world practice; it has also been reminder of the need to juggle roles and the personal discipline required in the workplace.'
The ANU CBE internship has been a great success all round.
Although Wei Shen Tan's internship is coming to an end, he will continue to work with IPAA ACT on a causal basis in 2020 putting his academic theory on project management into practise: 'It's a thrill to work with managers who are happy to listen to my ideas and try them out — I have felt empowered to challenge assumptions and ask questions.'
Sunny Hutson is already gearing up for a new ANU intern from the College of Business and Economics: 'ANU produces students of an incredibly high calibre and to get an intern with fresh eyes and ideas is just so beneficial to our work — I can't wait to welcome a new ANU CBE intern into our midst and see what we can learn from each other.'