2019 Prime Minister's Award Winners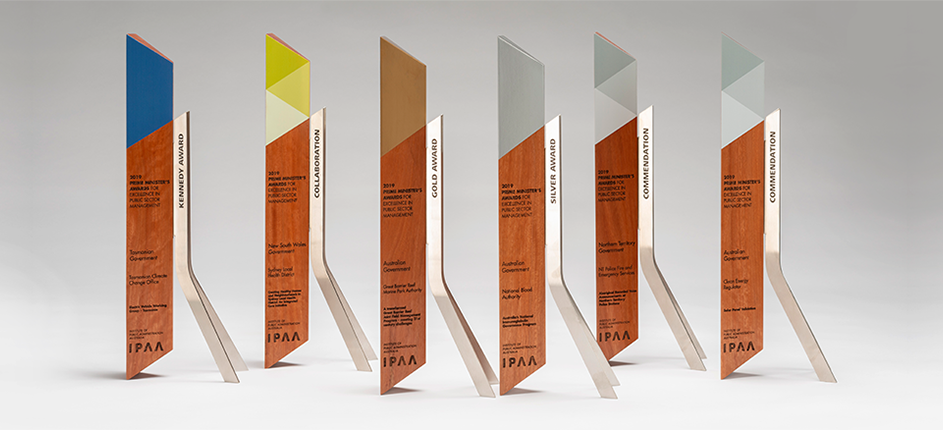 Congratulations to the winners of the 2019 Prime Minister's Awards for Excellence in Public Sector Management!
The winners were announced at an Award Ceremony at Parliament House in Canberra on 13 November 2019. The Awards were presented by the Hon Ben Morton MP, Assistant Minister to the Prime Minister and Cabinet. A letter from the Prime Minister in relation to the Awards can be viewed here.

IPAA congratulates all of the finalists in the 2019 Awards. More information on the winners and finalists can be found in the official booklet here. Photos of the Ceremony are available on our resources page here.
Winners
GOLD AWARD

AUSTRALIAN GOVERNMENT
QUEENSLAND GOVERNMENT
Great Barrier Reef Marine Park Authority
QLD Department Of Environment And Science

A Transformed Great Barrier Reef Joint Field Management Program –
Meeting 21st Century Challenges
Transforming field management to tackle unprecedented threats to the Great Barrier Reef.

SILVER AWARD

AUSTRALIAN GOVERNMENT
National Blood Authority

Australia's National Immunoglobulin Governance Program
A world-first national program providing clinical treatment for patients using precious, high cost immunoglobulin products made from donated blood plasma.

COMMENDATION

NORTHERN TERRITORY GOVERNMENT
NT Police Fire And Emergency Services
Department Of Corporate And Information Services
Aboriginal Interpreter Service

Aboriginal Recorded Voice Announcements At Northern Territory Police Stations
Introduction of VoIP technology to all police stations to improve customer service in a culturally appropriate way.

COMMENDATION

AUSTRALIAN GOVERNMENT
Clean Energy Regulator

Solar Panel Validation
An innovative, co-designed solution between government and industry to protect Commonwealth entitlements and consumer confidence from sub-standard solar panels.

COLLABORATION AWARD

NEW SOUTH WALES GOVERNMENT
Sydney Local Health District

Creating Healthy Homes And Neighbourhoods In Sydney Local Health District
Cross-agency care coordination to ensure vulnerable families have their health and social needs met, and are connected to society.

KENNEDY AWARD

TASMANIAN GOVERNMENT
Tasmanian Climate Change Office, Department Of Premier And Cabinet

Electric Vehicle Working Group - Tasmania
Supporting the uptake of electric vehicles through a coordinated partnership approach, including planning and delivering a state-wide charging network.
Finalists
AUSTRALIAN GOVERNMENT
DEPARTMENT OF EMPLOYMENT, SKILLS, SMALL AND FAMILY BUSINESS
CORPORATE REVIEW
Significant improvements to the design and implementation of corporate services, driven by user and stakeholder analysis and feedback.

DEPARTMENT OF FINANCE and DEPARTMENT OF DEFENCE
BUILDING A SOVEREIGN NAVAL SHIPBUILDING CAPABILITY FOR AUSTRALIA
Delivery of a sovereign naval shipbuilding capability that supports the Government's Continuous Naval Shipbuilding Program.

DEPARTMENT OF HUMAN SERVICES
CHANGE PIPELINE
An innovative, digital and visual narrative of the Department's forward view of change impact.

DIGITAL TRANSFORMATION AGENCY
DIGITAL IDENTITY - GOVPASS
Transforming how Australians access government and non-governmentservices using a secure reusable digital identity.

INFRASTRUCTURE AND PROJECT FINANCING AGENCY
INFRASTRUCTURE AND PROJECT FINANCING AGENCY
A dedicated agency with specialist commercial and financial skills and a mandate to provide advice covering Commonwealth infrastructure investments.
AUSTRALIAN CAPITAL TERRITORY GOVERNMENT
TRANSPORT CANBERRA
DELIVERING LIGHT RAIL FOR CANBERRA
Implementation of Stage 1 of an integrated transport network across Canberra to change the community's connectivity.
NEW SOUTH WALES GOVERNMENT
DEPARTMENT OF EDUCATION
ENTERPRISE FINANCIAL PLANNING TOOL (eFPT) FOR NSW PUBLIC SCHOOLS
A user-focussed budgeting, forecasting & reporting solution, designed to meet the needs of 2200+ NSW Public Schools.

DEPARTMENT OF EDUCATION
INNOVATION THROUGH NEW TECHNOLOGY
Achieving Outstanding Asset Management and Change Management results in NSW Schools.

SERVICE NSW, NSW SMALL BUSINESS COMMISSION and BETTER REGULATION DIVISION
EASY TO DO BUSINESS PROGRAM
A free, personalised service assisting small business owners to start, run or grow a business.

SYDNEY METRO
SYDNEY METRO NORTHWEST ELECTRICITY PROCUREMENT
Planning, implementation and finalisation of a major renewable procurement project to support its greenhouse gas commitments.

TRANSPORT FOR NSW
TRANSPORT BOT: A NEW FRONTIER IN CUSTOMER INFORMATION
Designed to assist customers at every stage of their journey: using web, social media and voice-assistants for transport information.
QUEENSLAND GOVERNMENT
DEPARTMENT OF TRANSPORT AND MAIN ROADS
DIGITAL CAPABILITY PROGRAM
Building digital capability to become 'digital by default', able to harness digital innovation and respond to ever increasing customer expectations.

DEPARTMENT OF TRANSPORT AND MAIN ROADS
CUSTOMER EXPERIENCE TRANSFORMATION PROGRAM
A cultural change initiative that enabled the Department to put the customer at the centre of everything they do.

QUEENSLAND POLICE SERVICE
PROJECT BOOYAH
Supporting disconnected young people to regain a sense of self-worth, build resilience & enable better life choices.
SOUTH AUSTRALIAN GOVERNMENT
PRIMARY INDUSTRIES AND REGIONS
SOUTH AUSTRALIAN RIVER MURRAY SUSTAINABILITY IRRIGATION INDUSTRY IMPROVEMENT
A unique approach to achieving water returns while supporting communities and improving agricultural productivity.
VICTORIAN LOCAL GOVERNMENT
GLEN EIRA CITY COUNCIL, MELBOURNE
DIGITISING HIGH PRIORITY TRANSACTIONS
Providing customers with the option to complete high priority transactions online with a consistent experience.