Williams Oration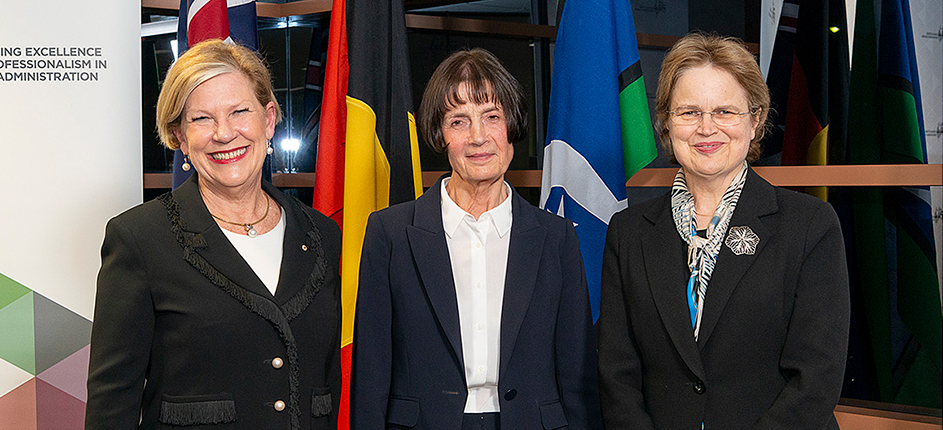 ( L-R: Ann Sherry AO, Helen Williams AC and Frances Adamson at the inaugural Williams Oration in 2018)
Each IPAA division hosts an Oration as part of their annual calendar, to an individual and their contribution to the field of public administration. In 2018, IPAA ACT established the Williams Oration in of Helen Williams AC, the first female to be appointed Secretary of a Federal Government department.

The inaugural oration was delivered by Ann Sherry AO, Executive Chairman of Carnival Australia on 23 August 2018. The event was held the at the launch of the 'Women in Leadership Series', a collection of four events delivered in 2018, discussing the opportunities that exist and the challenges that are faced by women in public sector leadership roles. In April 2018, the Australian Government achieved gender parity at the most senior level of the public service with nine of the 18 departmental secretary roles occupied by women.
HELEN WILLIAMS AC
Helen was appointed Secretary of the Department of Education in 1985, she went on to be the Secretary of several other portfolio departments: the Department of Tourism, Department of Immigration and Multicultural Affairs, Department of Communications, Information Technology and the Arts, and the Department of Human Services. She was also the Australian Public Service Commissioner between her time at Immigration and Communications.
Helen was appointed a Companion of the Order of Australia in January 2019 for eminent service to public administration through senior advisory roles, and to policy reform and innovative program delivery.
WILLIAMS ORATIONS
2019

Dr Megan Clark AC
Head
Australian Space Agency

Monday 4 November 2019
National Portrait Gallery, Canberra

View the 2019 Oration photos here.

2018

Ann Sherry AO
Executive Chairman
Carnival Australia

Thursday 23 August 2018
Department of Foreign Affairs and Trade
Diplomatic Academy

View the 2018 Oration here.