Work with Purpose | Episode #13 | 29 June 2020
NEED DRIVES INNOVATON WITH DAVID FREDERICKS PSM AND DR MICHELE BRUNIGES AM
As we begin Innovation Month in the Australian Public Service, we celebrate the creativity of public servants across the country during a time of great challenge and change.

In this episode, which has been produced as both a podcast and a video, David Fredericks PSM, Secretary of the Department of Industry, Science, Energy and Resources, and Dr Michele Bruniges AM, Secretary of the Department of Education, Skills and Employment, reflect on the power of collective work and reaching out to colleagues in an open and transparent way. Discussed in this episode:
The short, medium and long-term response to COVID-19.
Building trust and strength in relationships across the public and private sectors.
Letting go of state and territory boundaries at speed, to create policy that delivers.
How COVID-19 has created a new authorising environment.
Hanging on the capacity for public servants to pivot when needed.
Building a permissive environment for creativity.
This episode was visually scribed as part of the APS Innovation Month, which is coordinated by the Public Sector Innovation Network (PSIN). The PSIN is the Australian Government network helping public servants understand and apply innovation in their daily work.

Transcript - a full transcript of the podcast is available here.
Download - to listen offline or share within your organisation, an MP3 file of the podcast is available for download here.

Illustration - View the visual scribe below or download the illustration here.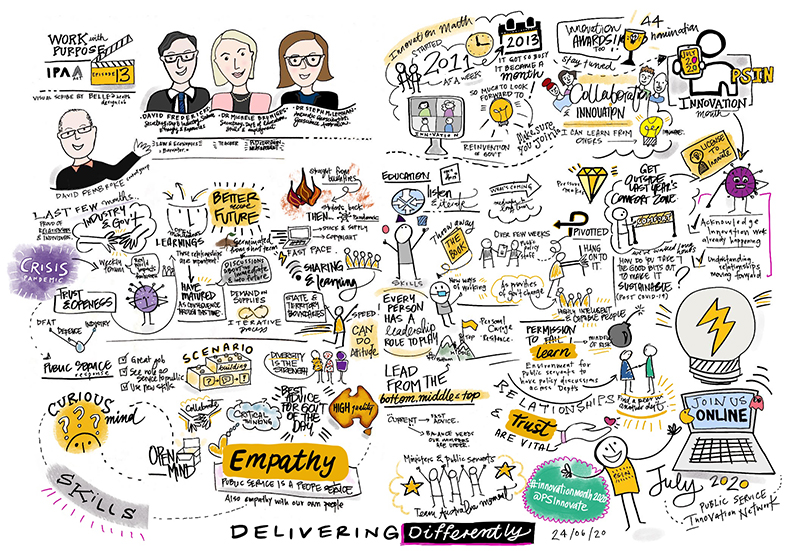 Produced in partnership between